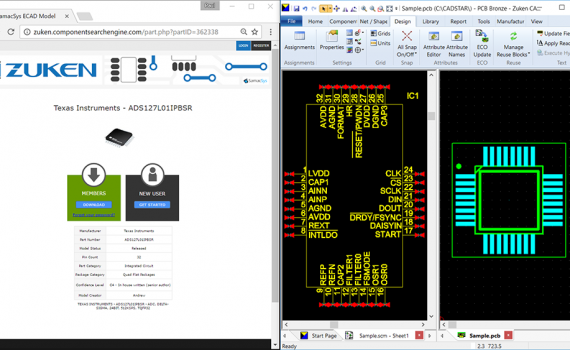 Category:3D models,Altium PCB Libraries,Component Search Engine,Component Series,EAGLE library,EPW,LivePartLibrary,PCB Footprints,PCB Libraries,SamTheStickMan,Symbols,Uncategorised,Updates
Zuken Partners with SamacSys to Offer Rapid Component Design-in.
We're pleased to announce that after investigating all of the available solutions on the market, Zuken chose SamacSys to be their partner for PCB Component Libraries.
Find out more in today's official press release – Click Here.
About Zuken:

Zuken works globally with leading companies to optimize their electrical and electronic engineering design and related manufacturing processes through the provision of leading edge software and consulting services. Our unique combination of proven experience, technological expertise and agility creates best in class solutions. Our transparent working practices and belief in integrity in all aspects of business produces long lasting and successful customer partnerships.
Zuken's design products are heavily relied upon by organizations across the globe. Our electronic and electrical design solutions are used by some of the world's most recognizable brands.