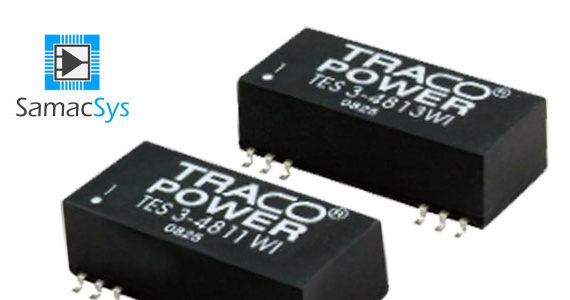 Category:
Uncategorised
SamacSys has been chosen as the provider of professional CAD Models for Traco Power. In an effort to improve their customers' experience, SamacSys will create and provide interactive CAD Models for inclusion on the Traco Power website.
Traco Power has been the leading manufacturer of DC/DC converters and AC/DC switching power supplies since 1944. They have proven time and time again that they provide the most reliable power conversion products specific to their customer needs and their dedication to quality and reliability makes their choice to partner with us even more significant.
Their latest move to enhance the customer experience on their website saw a technical evaluation of all available CAD Model providers in the industry. Traco wanted an easy-to-use 3D product model feature on their website to not only show a 3D render of the component, but also a 2D scalable footprint, and the PCB symbol.
This tool is integrated on the component page and is free to use. See it here.
At SamacSys our mission is simple, we want to provide free access to high-quality PCB library content for every component and every engineer around the world. We're doing this by partnering with some of the largest names in the electronic component industry.
CEO, Alex MacDougall said this:
"With the recent global changes to people working remotely more often, it's great to see more manufacturers of electronic components investing to bring digital content to their community. We're really pleased to have been chosen by Traco Power to provide their ECAD Models, we've been impressed by their forward-thinking approach."