Configuring Library Loader for CircuitStudio
1 – Click Settings in Library Loader.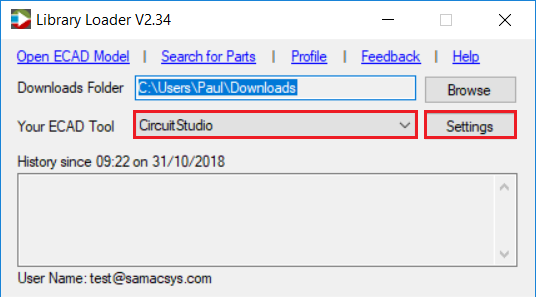 2 – To prevent these instructions from showing every time you download a part, please uncheck "Show Library Import Instructions".  If you want to review these at any point, you can click the Help link in the same dialog.
3 – Click OK to accept the Settings

How to import our free library content into CircuitStudio Libraries.
Select Open Library from the File menu

Select the *.lbr file from your Downloads Folder and click Open

Click Open and Edit


Double-click the *.SCHLIB to preview the Symbol

Double-click the *.PCBLIB to preview the PCB Footprint, and then click "3D Body" from the "Place" group of the "Home" ribbon tab

Select "Generic 3D Model" and then click the "Embed Generic 3D Model" button

Select the 3D Model file (*.stp) from your Downloads Folder and click Open

Click OK

Click Left Mouse Button to place 3D Model on PCB Footprint

 Click Cancel

Click Switch to 3D from the "View" group of the "View" ribbon tab

SamacSys have solved the decade-old problem of free access to high quality PCB library content, for every component and every Engineer.
Our mission was simple:
Make library content free (forever), for every engineer globally.
Libraries must be of the highest-quality and trustworthy.
The content has to be well integrated to engineers existing PCB Design tools.
SamacSys' customers range from individual maker engineers to international brands whose revenues run into the $billions. With over 100,000 users in over in over 180 countries, SamacSys is recognized as the global leader in Electronic Component Library solutions.
They are the chosen partner of leading names such as RS Components, Arrow Electronics, Mentor Graphics, Zuken, ON Semiconductors, ST Microelectronics and many more.
Check out the libraries free at: https://ComponentSearchEngine.com
If you'd like to ask us any questions please feel free to get in touch – Click Here.