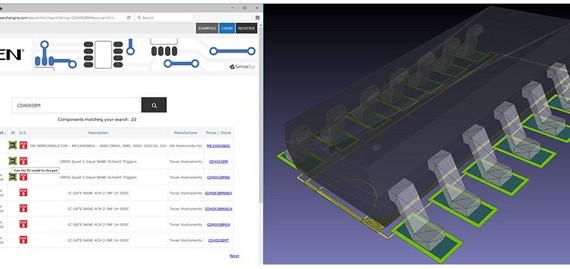 Category:
Uncategorised
SamacSys has expanded its partnership with Zuken to enable engineers and designers to download part information, symbols, footprints, and 3D models within their CR-8000 library to support their prototype or production design.
This expansion means that SamacSys now supports all of Zuken's PCB design tools with our library of free, high-quality schematic and PCB symbols and footprints; CR-8000, CR-5000 and Cadstar.
You can read more here
About Zuken
Zuken provides market-leading software and services. Their technology strengths are based on their experience working with leading manufacturing companies around the world. Zuken helps implement product development processes that work in global markets.
About SamacSys
SamacSys is the leading developer of software tools for creating and managing electronic component ECAD data. Our mission is to provide companies with a suite of software tools and high quality content to select, manage and distribute electronic component information effectively throughout their organizations. Our customers range from individual engineers to international brands whose revenues run into billions of dollars. With thousands of customers in over in over 100 countries around the world, SamacSys is recognized as the global leader in electronic component software solutions. The company is a partner to leading brands such as RS Components, Allied Electronics, Zuken, Target3001, ON Semiconductors, ST Microelectronics and many more.